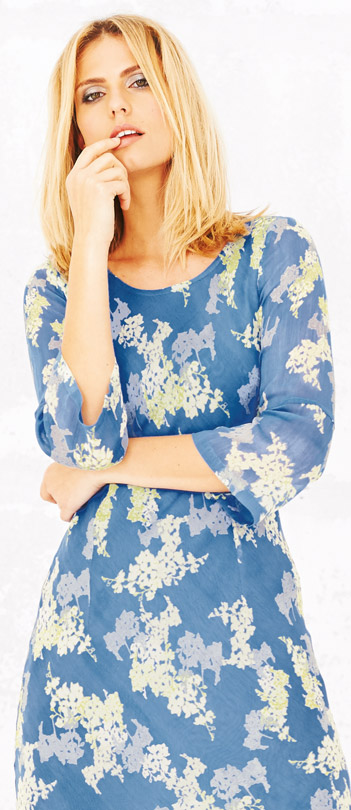 The traditional story of Adini is one of longevity, through heritage, loyalty and enduring style selling the brand as a wholesaler to department stores and boutiques across the country. Adini has been part of the British wholesale fashion scene for nearly 40 years producing collections that are timeless, sustainable and individual. As fashion, supply and shopping styles have changed over the years, so Adini has evolved. With the new retail challenges ahead we are again investing in our future. More ranges are being added, suppliers increased and an enhanced design team to carry our philosophy forward. We love Natural Fabrics, we have a Passion for Colour, Artistic Design, Craftsmanship, Comfort, Care and Quality.
By understanding and celebrating our heritage and influences we look forward to the next 40 years.
Our collections are featured in +350 independent boutiques and individual department stores throughout the UK, Ireland and overseas. We choose creative stockists that offer niche brands to customer who are after uniqueness, keeping away from the homogenous styles of the high street.
If you would like to be become an Adini Stockist, please get in touch via your associated Sales agent (details below according to region). As a stockist, you will be supported by strong Imagery, Point of Sale and Brochures to promote our style and philosophy. In return we guarantee exceptional customer service, dependable deliveries, value for money, and ethical working practices.
We create 5 collections a year: Spring, Summer, High Summer, Autumn and Winter.
Our Sales agent details are below:
(London and South East)
Helen Groom
-
hgroom6@gmail.com
- 07986 434346
(South West, Wales, Midlands and North West)
Nick Sturmey & Joanna Sturmey
-
nsturmey@btinternet.com
/
joannasturmey@outlook.com
- 07976 70031 / 07792 280617
(North East)
Susan Hardcastle
-
susanhardcastle@talk21.com
- 07718 037262
(Scotland)
Richard Kaye
-
richardrkaye@hotmail.com
- 07825 187574
(NI & Ireland)
Burns and Vaughan Agency (Jimmy and Gareth)
-
gareth_vaughan@btconnect.com
- 07740 794461
To contact our head-office for further assistance our details are:
Adini (Wholesale Division)
891 Great West Road
Isleworth
Middlesex TW7 5PD
UK
Tel: +44 (0) 020 8560 2323
Fax: +44 (0) 020 8560 1233
Email: sales-support@adinilondon.co.uk

Store Locator
If you are an existing Adini stockist and would like to access our brand imagery, then please click the email link below and we will send you a download link.
images@adinilondon.co.uk