Our head designer, Carol, was fortunate enough to come across the perfect mushroom foraging spot down in Devon.
Here are some of her favourite ways to cook with these foraged goods.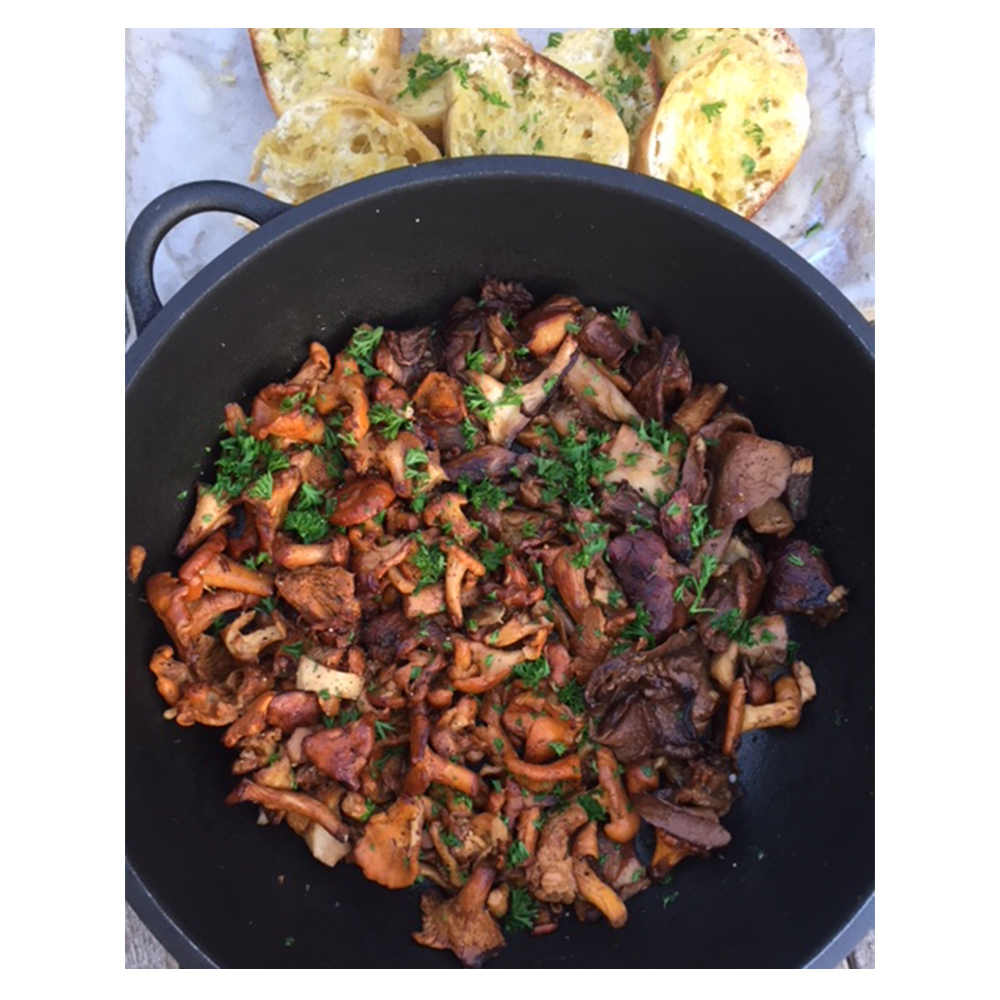 Chantrelle Mushroom, Artichoke and Pancetta
Winter Warmer
PREP TIME
: 5 minutes
COOK TIME
: 15 minutes
TOTAL TIME
: 20 minutes
Category
: A Side, Dinner,
Cuisine
: Gluten-Free,
Ingredients
1 tbs Olive oil
3 cloves Garlic
1 white Onion
3 tablespoons coarsely chopped fresh flat-leafed parsley leaves
100g Pancetta
380g Chantrelle Mushrooms
280g Artichoke hearts
Salt and Pepper to taste
Method
Halve Your Chantrelle Mushrooms Length ways.
In a large non-stick skillet, Pan fry your fresh Chanterelle mushrooms with olive oil and garlic, (season to taste). Set aside and keep warm
In separate pan, sear some decanted artichokes, add pancetta and cook till lightly crisp
Mix in the fried chanterelles with Artichokes and pancetta. sprinkle with fresh chopped parsley.
Serve with warmed Ciabatta and Olive Oil.
Creamy Porcini Sauce

PREP TIME: 5 minutes

COOK TIME: 10 minutes

TOTAL TIME: 20 minutes

Category: A, Side, Dinner,

Cuisine: Gluten-Free, Healthy,
Serves: 6


Ingredients
75g unsalted Butter
3 crushed cloves of Garlic
1 Shallot chopped finely
1 cup of white Wine
200g fresh chopped Porcini
150ml Crème fraiche
Salt and Pepper to taste


Method
Add the olive oil, porcini, garlic and shallots to a hot pan and cook over a medium heat until porcini are soft and slightly browned.
Add the wine and cook until it has almost completely evaporated and then add the crème fraiche
Season with salt and pepper.
Serve with fresh pasta or as a sauce on the side with seared fillet of beef and a rocket salad drizzled with Truffle Oil.